Hey Penguins,
Jennifer here with some great news! Flippr has updated and it seems they have finally released their long-awaited Ninja Party! Now you can run around and play Card Jitsu (yup, you can play Card Jitsu now!) and get yourself  a water suit. The Dojo is filled with riddles that have answers which were already given. You also have to help fight against the shadows. I logged in to Flippr and I found myself reading this —
Woah! It seems there's a lot happening in this picture. Look at what Sensei is saying! Seems we need to help him out with the elements being out of balance. The town was also redone and it looks fabulous with the changes made for the Ninja Party! Let's see what else is said when you click "Next" —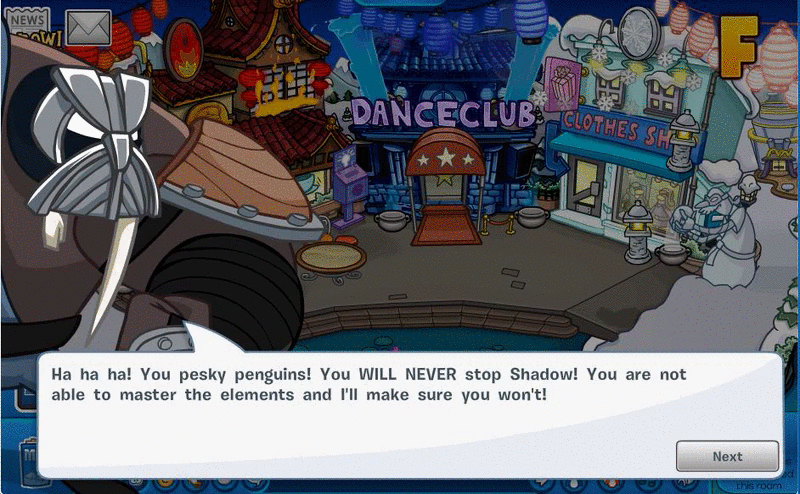 That's just a small summary, as of course, you cannot read THAT quick. We're given quests and tasks to do and we have to help destroy the shadows! Here's what the town looks like without any messages in the way —
It looks absolutely amazing, and I sure do have to hand it to Flippr for the effort they put in into designing the town accordingly! As you can see, there is a somewhat golden button in the top right corner. Here's what happens when I click it —
Woah! I guess you have to grab yourself the water ninja suit and dance on the elements in the places listed above. I bet you'll win something out of it! I also want you to find out for yourself the rest of what happens when it comes to this party and defeating the shadows, so I'd say you better come on Flippr and see things as they are right now! This party is from July 6th to July 20th. Flippr is also the first AS3 CPPS to have Card Jitsu working, so you should come online and play! This is one of the biggest parties Flippr has had so far. Don't miss out on the fun!
Thanks,
Jennifer