Hey Penguins,
Flippr has updated, and they're becoming even better than they already have! To start off this post on the right foot, they've started up a mini event for SOTW (Star of the Week). There are several rooms on Flippr custom-made for this event. It's a Summer Prom! A few boys and girls were picked, and there are voting polls. You get to vote for which outfit you think is the best, and the selected winners will become Summer Prom King & Queen! Let's check out the town —
I am loving what I am seeing! The town looks absolutely astonishing. As you can see, there are two voting polls. One is for the boys, and one is for the girls. Click the poll to vote — it's that simple! Now, moving on, I'll tell you this — in a few days, Teddy will announce the winners of this SOTW Summer Prom Spin-off. The winners will receive items, perks, and there will be a party at the dance club! Be sure to come on Flippr and get your votes in today!
Next, a new feature Flippr has added is private chatting. Now, this isn't like your ordinary in-game private chat system. It's a "Contacts" tab, placed on the bottom right whenever you login. People can add you and message you through this system, and it's super clean! I've actually just spoken with a moderator and told them my thoughts. You can also get notified of private messages when you're out of the Flippr tab! Here's how the system looks as well —
As you can see, there are other options, and I love all of them! I've never truly seen a private messaging system like this one. Good job, Flippr!
Finally, Flippr has also added in room and igloo music. You can take the link of a Youtube video and add it into whatever room you want the music to be changed in. The option to do this is in the manager — which is the big "F" in the top right corner. You'll be given a set of options to choose from, and the one you choose is squared below —
Upon clicking the option to change your room music, this is what you're shown —
Wow! I'm currently jamming out to one of my favorite songs. Flippr sure does make it simple to change the music! As you can see, there is a slot to insert the Youtube song, and a button to set it. From there, the song plays on a loop. When you're tired of the song, you can remove it. It's so straightforward!
Whenever you go to a friend's igloo, they may have a custom song playing. I'm currently in a friend's igloo, and they're playing a classic — Rick Astley's Never Gonna Give You Up! If you're wanting to play this music in your igloo, and you're unsure of the name, there is an "i" you can now click in the person's igloo, which gives you all of the information —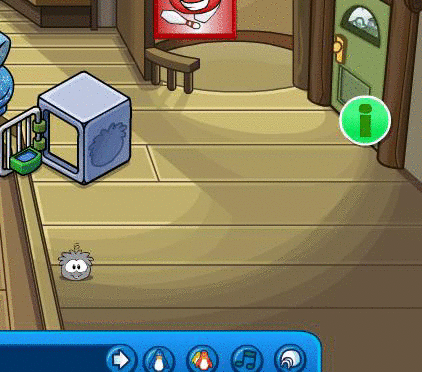 Amazing! You're also given the option to change your igloo music, of course. Don't miss any of these great happenings on Flippr! Join today — come partake in the mini event and check out their new features! I promise you won't regret it!
Thanks,
Jennifer