Hello everyone,
Today, I'm coming to Speedy CPPSHQ with some great news. As you all know, speed is a feature on CPPS.me. However, it was limited to staff only for quite a few years. Starting today, CPPS.me has decided to start selling speed to all of its players! CPPS.me has had this plan in place for awhile, but they did not implement it until today. Let's take a look at some of the users in the Stadium right now.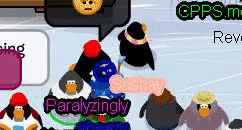 As you can see, Paralyzingly's speed has been modified. It's not faster than normal, but it's a bit more slower than the average penguin speed. I find that pretty neat. Let's look at another player move, but with a higher penguin speed.

Penquino13 is certainly moving at a more quick pace in this GIF! I'm loving how speed was given to the users, and from what I'm hearing, a lot of people are enjoying being able to have speed. However, you must buy speed. You can buy it for $4.99 in CPPS.me's Manager. Just login, click the option for speed, and you'll be able to buy it from there! Let's look at what it looks like within the manager.
Of course, if you haven't yet bought speed, you'll be shown an option to buy it. If you have bought speed, just like every other player who did buy speed, you'll be given the option to change your speed, and to save it. Most players tend to change their speed in the game by saying !speed and a number ranging from 1 to 10. Here's what it looks like after you buy it in the manager.
CPPS.me never fails to impress me with their updates flying by every day. I hope to see more from this amazing server, and speed is certainly an amazing feature to have for everyone. Have a good day, everybody!
Thanks,
Jennifer